Concert Schedule
September 2017 to June 2018
Tomoko Maki in Piano Recital September 9, 2017
Please "save the date" as the EUUC Music Committee will feature our cherished Dr. Tomoko Maki in concert at 7:30 PM in Chapman Hall. This recital will occur Saturday evening as a special occasion to "kick off" our September 10, Sunday Ingathering Service. Adults, $15. Youth $10. Children (12 and under) free. Tickets also at Brownpapertickets.com event 3043165. All proceeds benefit the EUUC General Fund.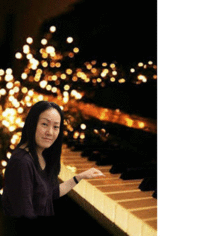 Program
Toccata in e minor by J.S.Bach(1685-1750)
Sonatina in F sharp major (3 movements)by M.Ravel(1875-1937)
Nocturne op.9 no.2 by F.Chopin(1810-49)
Barcarolle op.60 by F.Chopin
Pour Le Piano (prelude, sarabande, toccata)by C.Debussy (1862-1918)
Suite bergamasque(prelude, minuet, Clair de lune, passepied) by Debussy
L'Isle joyeuse(island of joy)by Debussy
Musical Theater Gala Concert Friday October 27, 2017
Come celebrate our own talent this concert. Among other offerings from our own talended congregation, the Choir will sing an amazing Jesus Christ Superstar medley, Do You Hear the People Sing from Les Mis and a fantastic choral arrangement of To Dream the Impossible Dream from Man of La Mancha.
Tickets $15 adult and $10 youth at the door.
Open Mic Nights
Dates Fridays Dec 8th 2017, Feb 23, 2018 and April 20, 2018 at 7:30 p.m.
Share your talent and expression at a EUUC Open Mic Night.
We have had acts from string ensembles to break dancing, poetry, and more. Or come along for a very informal appreciation of a wide spectrum of talent and love of music.
Questions?
Contact: Wil Sederholm, Music Director