Concert Schedule
September 2017 to June 2018
University of Idaho Concert Choir
Wednesday March 14th 7:30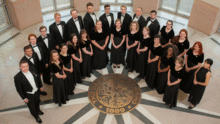 The University of Idaho "Concert Choir" at EUUC on Wednesday, March 14 at 7:30 PM. This is a free concert! The Vandaleers are directed by Paul Thompson. This select group performs the finest choral repertoire of all styles and eras, and serves as the premiere touring choral ensemble at the University of Idaho. In addition to frequent tours of the Northwest region, past concert tours have taken the ensemble to Europe, South America, Washington, D.C., Carnegie Hall in New York City and most recently, a concert tour of Austria, Germany and Czech Republic in 2010. They will be performing music by Bach, Vivaldi, Vaughan Williams, Rheinberger, and others.
Paul Thompson is assistant professor and Director of Choral Activities at the University of Idaho where he conducts choral ensembles, teaches graduate and undergraduate courses in choral conducting, choral methods classes, and oversees the masters program in choral conducting. He comes to this position from Francis Marion University in Florence, SC, where he was Director of Choral Activities and Voice Area Coordinator. Thompson has also been a member of the choral faculty at the University of Wisconsin-Milwaukee and at the University of Wisconsin-Manitowoc, and spent four years directing the choirs at St. Marys Springs High School in Fond du Lac, WI.
Tomoko Maki in Piano Recital September 9, 2017
Please "save the date" as the EUUC Music Committee will feature our cherished Dr. Tomoko Maki in concert at 7:30 PM in Chapman Hall. This recital will occur Saturday evening as a special occasion to "kick off" our September 10, Sunday Ingathering Service. Adults, $15. Youth $10. Children (12 and under) free. Tickets also at Brownpapertickets.com event 3043165. All proceeds benefit the EUUC General Fund.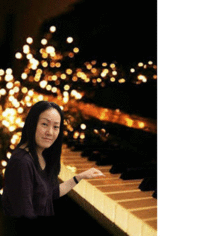 Program
Toccata in e minor by J.S.Bach(1685-1750)
Sonatina in F sharp major (3 movements)by M.Ravel(1875-1937)
Nocturne op.9 no.2 by F.Chopin(1810-49)
Barcarolle op.60 by F.Chopin
Pour Le Piano (prelude, sarabande, toccata)by C.Debussy (1862-1918)
Suite bergamasque(prelude, minuet, Clair de lune, passepied) by Debussy
L'Isle joyeuse(island of joy)by Debussy
Musical Theater Gala Concert Friday October 27, 2017
Come celebrate our own talent this concert. Among other offerings from our own talended congregation, the Choir will sing an amazing Jesus Christ Superstar medley, Do You Hear the People Sing from Les Mis and a fantastic choral arrangement of To Dream the Impossible Dream from Man of La Mancha.
Tickets $15 adult and $10 youth at the door.
Open Mic Events
Dec 8th, 2017 February 23rd and April 20, 2018
The EUUC Open Mic events are very eclectic - powered by the collective creativity of the attendees. Its fine to show up and enjoy, no performance required. We have had poetry, instrumental, ensemble, classical, folk, humor and even break dancing in the past. One thing sure, you'll leave with a song in your heart and a smile on your face.
Questions?
Contact: Wil Sederholm, Music Director